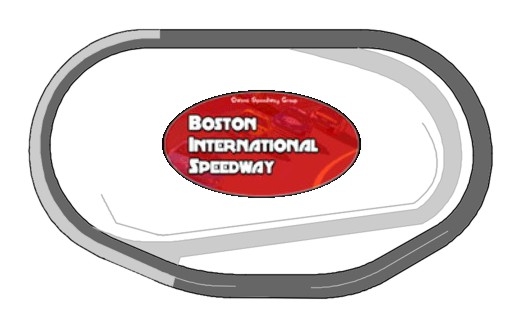 Boston International Speedway is a 1.09 mile quad-oval speedway in Cambridge, Massachusetts.  BIS has been on the AERS schedule since 2011 after construction was completed in late 2010.  It has always been one of the early races of a season, being 3rd in 2011 and 2nd in 2012 and 2014.  Since its inception, Boston's AERS date has been known as the Ford 200.
Boston has 25 degrees of banking in the corners, making speeds very fast for a track so short. It has a slightly oblong shape, and is comparable to Rockingham Speedway in North Carolina, except having a wider racing surface.  
PAST RACES
2011
FORD 200
Laps: 175
Boston Int'l Speedway, Cambridge, MA, 1.09 miles
Louis Tellez would grab the pole for race 3 of the 2011 season at his home track, continuing his strong opening of the season after winning at Daytona.  This race would feature the debuts of Casey Anderson, Brian Hensler, and Daniel Micks.  On lap 6, a massive wreck occurred on the frontstretch, taking several cars out and sending Jorge Hernandez, driver of the #47, to the hospital.  He was released days later with heavy bruising and a broken rib cage.  On the restart Tellez would continue to lead with teammate Shawn Donnelly 2nd. By the next restart Tellez was 5th after a slow pit stop and never returned to the lead.  On the lap 35 restart Herb Cilantro would lead with surprises in the top 10, Josh Mertz and Nate Knowitall not far behind. After a long series of cautions Herb Cilantro would retake the lead, and eventually the win.  Josh Mertz would get his 2nd consecutive runner-up finish in just his 4th start, and fellow rookie Chris Kennedy 3rd.
Results
2012
FORD 200
Laps: 175
Boston Int'l Speedway, Cambridge, MA, 1.09 miles
2012 saw Allen Reeds' 19 start on the pole and Cilantro took 2nd early.  On lap 4 he claimed the lead and showed his dominance at this track.  After a lap 16 caution, a long green flag run ensued with green flag pit stops on lap 60.  A debris caution flew on lap 67.  On the restart Cilantro fell all the way to 12th until a lap 91 wreck.  Under the ensuing yellow his ignition failed and he had to drop out of the race.  Chad Lapinski meanwhile held off the field on the final 5 lap dash and won in his 3rd career start.  Donnelly came in 2nd and Jared Kash posted a 3rd, still his best career finish.  All 3 NLRS Racing cars (Crompton in the 8, Joey Johnson's 38 and Knowitall's 83) finish 5th, 8th, and 9th, respectively.
Results
2014
FORD 200
Laps: 175
Boston Int'l Speedway, Cambridge, MA, 1.09 miles
Tommy Ritcher would continue to silence the critics after grabbing the pole for race 2 of the 2014 campaign. Kenny Gerrelds started 2nd and Casey Lester 3rd.  Nick Dawson made his 3rd career race and started 4th with defending winner Chad Lapinski in 5th. Herb Cilantro and Nathan Smith worked the way to the Top 5 early as Livonia winner Louis Tellez ran in the back. Juveno made his first career start and ran in the mid-field in the opening stages of the season.  Rennesse had 3 of the Top 5 early on, with Ritcher and Lester making their 4th career starts.  Lap 49 saw the first caution for debris and the field would pit, and Tommy Ritcher would continue to dominate on the restart.  Carson Crompton for the 2nd time in the first 2 races would lose the engine while running in the Top 10.  Gerrelds and Dawson triggered a huge wreck on lap 103.  Many cars would pile in to this 2nd caution.  Tellez would not be one of them, as the Red Sea parted in front of him.  Ritcher would continue to lead, untouched in the first 131 laps until fellow rookie and teammate would take the lead on lap 132.  Mikael Carter while being lapped held up Ritcher for several laps until his engine expired, very reminisce of Cilantro in 2012.  Several cars failed to make it on fuel, but Casey Lester did and won on his 4th start.  Nathan Smith finished 2nd and debutant Juveno finishing 3rd with his car owner Jeith Davis in 4th. Tellez worked his way up to 10th to keep the points lead going into the Aflac 200 at Delaware...
Results
Notes and Trivia
Ever since the Jorge Hernandez wreck, Boston has been a fan favorite.
Boston is now infamous in the garage as the dominant car has eventually had mechanical failures late in the race in the last 2 events.
Both Lapinski's 2012 and Lester's 2014 victories made the some of the quickest winners in AERS history, in their 3rd and 4th starts, respectively.
(because of the 2 year break, and having 2 2009 seasons, 2009 season 2, 2010, and 2011 are pushed back a year for realism.)