NNRCS announced earlier today that the 2012 season would not be held. While two exhibition races have been run, the series is still having major financial trouble, and many teams are still unprepared for the coming year. There is not much more to this story other than the NNRacing.com Cup Shootout, won by AJ Stravato, will still count towards next season while not having counted for points.
With this announcement, a promo car was shown off, which will serve as the
Track Tours
car for all races.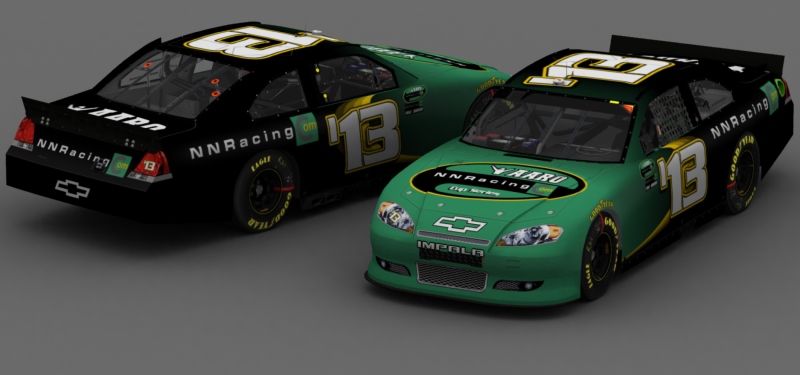 ----------------------------------------------------------------------------------------------------------------------------
I'd really hoped I wouldn't have to do this, but with my last laptop being put to rest, resulting in lots of lost replays and car files, it had to be done. I apologize to my current entrants for having to make this announcement, but I thank you for being patient with me. I know you guys want me to get this show on the road, so here's a few ways you could help me.

For the same reasons I had to ask a friend from NNR to paint the remaining cars, he had to back out of the ones that were left. I know from what I've seen that there's a lot of painting talent here on this site, so here's a short list of cars which still need to be painted:
#09, Rikardou Akuzaru (JPN), Salomon Snowboards / Bonfire Snowboarding, Dodge *ᴿ
#11, Logan Alvarez (USA), Call of Duty, Chevrolet *ᴿ
#12, Kale Webler (USA), Eutechnyx, Chevrolet *ᴿ
#13, Casey Lester (USA), NOS Energy, Chevrolet *ᴿ
#47, Jason Thorn (USA), Advanced Robot Combat, Dodge *ᴿ
#50, Mike Carroll (USA), Poo! The Card Game, Dodge *ᴿ
#57, Tim Averell (USA), AT&T, Dodge *ᴿ
#66, Chase Wheeler (USA?), Loctite, Chevrolet *ᴿ
#74, Drake Archer (USA), Gametechmods.com, Dodge *ᴿ
#82, Shaun Grantson (USA), Kodak, Dodge *ᴿ
#83, Casey Calhoun (USA), Z-Lines, Dodge *ᴿ
#89, Brandon Corna (USA), National Guard, Chevrolet *ᴿ
#90, Frank Harris (USA), Monster Energy Drink, Chevrolet *ᴿ
#94, Cole Armstrong (USA), Battlebots, Dodge *ᴿ
*ᴿ Indicates a rookie driver.
Drivers in green indicate that this car is being painted, but need to be finished.

Other than that, if anyone has a good track.ini for Talladega Revamped 2010, it would be much appreciated. I need to run the Talladega Promo Race over again anyways, and I'm hoping for a much cleaner race instead of a crash-filled backmarker fest, in the best way I can describe it.